We had visits from some little witches and goblins this Halloween. Feel free to peruse through our pictures!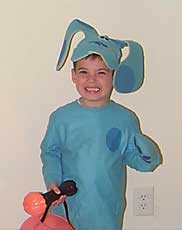 Matthew decided to dress up as Blue's Clues this year. It was either that or a cross between a ballerina and the Scream guy. I was all for the Scream guy, but Kim didn't like that idea very much! ;-D
---
Matthew decided that we should be the first house to "trick or treat."
---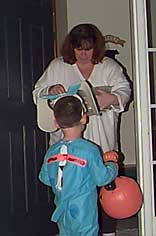 Needless to say, I don't think Kim was very scared!
---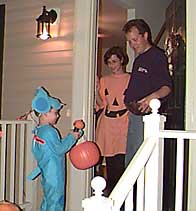 He decided to play a "trick" on our neighbors, Ginny and Mark, across the street. For some reason, I don't think he scared them much either.
---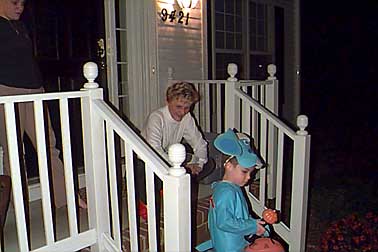 Finally, he decided to visit our other neighbors, Doris and her daughter, Gina, who live next to us. Unfortunately, their dogs caused this "little blue pup" to squeal back home where he continued to give out candy from his own front door for the rest of the night!
We didn't have much trick or treaters that night. Everyone I talked with didn't seem to have many either. We all thought they went to the malls. Oh well. There's always next year!
C'ya then!