Last updated on December 4th, 1999
July 3, 1999
July 18,1999
July 23, 1999
August 6, 1999
August 16, 1999
August 26, 1999
September 8, 1999
November 11, 1999
Here's our house! Pretty much done.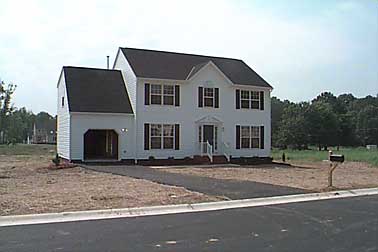 So who built our house? Ryan Homes, which has been building homes in the Richmond area for almost 40 years. They're pretty big up and down the east coast. If you're thinking of building, drop them a line and tell them we sent ya! We'll split the $500 shopping spree! ;-D
I've also added a "subcontractor/supplier" page with links to their sites for more information about our house.